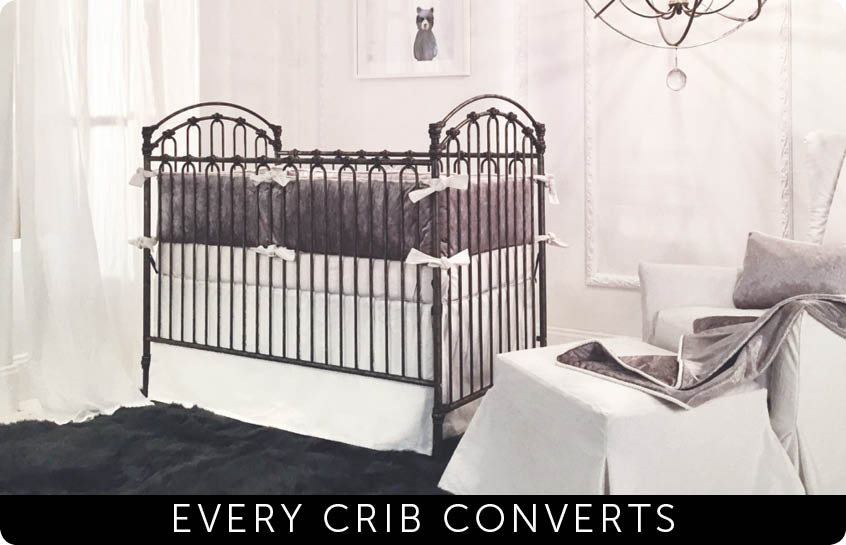 Baby Crib - Choosing the right crib for your nursery
Arguably the baby crib(s) is the most important piece in your nursery. It will be the centerpiece of the room, and dominate the feel of the space. As a new parent, choosing your baby's crib can be a daunting experience. You will be understandably concerned with safety, design, durability, and longevity. So, doing your research before purchasing your baby crib is a wise decision and will pay off big time in the long run. Also, it is never too early to start your research. Allow yourself the time to see what's available. So many parents make the mistake of waiting and then they are disappointed when they can't get what they want due to lead times. When buying, it is highly recommended to buy a brand new baby crib. Second hand cribs may not meet current safety regulations, and although they may look like they are in great shape, they can actually hide devastating stress fractures that could lead to injury. Also, they may not contain the original hardware, which adds to the safety and stability of the assembled piece. So, if at all possible, when it comes to your baby's crib, buy new.

When deciding on which baby bed to buy, there are many factors to consider, some of which are budget, size, style, color, and future use. Answer these questions before you begin your search and save yourself time and money. With so many options on the market today, it is wise to know what you want before you begin. There are many affordable options on the market today that meet safety requirements, and have a style you're looking for. But, if your desire is to have a crib that will last beyond one child, and look great throughout the toddler years, you may want to increase your budget and get a better quality crib. Rather, save money by repurposing other items in your nursery. A beautiful dresser can instantly become a gorgeous changer, simply by adding a change top. Take your favorite chair from another room, and add a cute ottoman or puff and, voila, you have a nursing nook. And for additional decor like artwork and mobiles, there are literally thousands of DIY options out there on pinterest. Create something all your own that looks amazing and costs next to nothing. But, when it comes to the baby crib, cut no corners. This is the place your child will spend the most time alone, and the peace of mind you will gain from knowing your child is in a safe environment will be money well spent. Additionally, a high quality crib will continue to look great throughout the years. If you add a conversion kit, you can extend the look of your beautiful baby crib for several more years. The size of your crib should work with the size of the room it will be in. Most baby beds on the market today are a standard size, but there are some beautiful options, such as round or oval cribs, that take up a smaller footprint, without sacrificing a lot of interior space. Also, consider visual space. A crib with a closed head and foot will feel bigger than one with open sides, so if you're trying to create a feeling of airiness to a space, opt for a crib with open pickets on the head and foot rather than closed sides. Cribs that offer closed head and foot have their own charm. They create a much cozier interior, and keep noise and light to a minimum for sleeping baby.

When deciding on style, there are so many things to ask yourself. Do you want this room to mirror the style you've already set throughout the rest of your house, or do you want this beautiful baby room to stand all on its own. Have you created a style within your home, and if so, how would you describe it. With categories like, traditional, modern, contemporary, rustic, beach, shabby chic, southwestern, French country, and vintage, you have thousands of directions your room could take. And each direction, will offer up a host of baby crib choices that speak to that style. If you are a traditionalist, a traditionally designed crib, such as a sleigh crib, might be right for you. If you love a contemporary look, you may opt for an oval or round crib. The timelessness of an iron crib could work in many settings, such as traditional, contemporary, shabby chic, French country and vintage. So, it's a great option for so many styles.

Color plays a major role in creating the look you want in your baby's room, so choose a baby crib with the color that will add to the look you are going for. Color sets the mood in unique ways. While most everyone loves pink for a little girl, it is not advisable to buy a pink baby crib, unless you know for sure you're having a girl, want a pink crib, and have no plans of using that crib for another baby. Rather pick a neutral colored crib, and add beautiful pink baby bedding. Metallics, such as silver and gold, are very popular options baby cribs. You can find metallic finishes in both iron and wood cribs, so you needn't be limited by medium. They exude glamour and a sense of posh timelessness. White is and probably always will be, the most popular color for a baby bed. And, it's no wonder, nothing is as pure as the color white. It can look traditional, contemporary, beachy, and anything in between. It works with every color and is neutral, so it can work for future babies. Wood tones offer a feeling of grandeur and can be a great option if you're looking for a more masculine interior. However, deep colored woods for your crib, are still neutral in nature and can accommodate a feminine space if dressed accordingly. Grays are very popular and can offer a weathered, worn kind of elegance. Grays pair beautifully with pastels, and can create a very light, airy and elegant look. For those seeking a bold, modern look in their nursery, black is the new white! Black furniture is hitting the scene and creating striking pallets from coast to coast. Black also works with every color, and adds instant sophistication to a room. Some parents shy away from black, thinking it may be too mature for a baby's room, but others are embracing this hip new neutral, and creating spaces that are contemporary, playful, traditional, and modern in design.

When choosing your baby crib, opting for one that has a transitional feature will add value to your experience. There are cribs that start as cradles and then convert to a crib, daybed, toddler bed, twin bed, full bed, and even desk! While that may be a bit much, choosing a baby crib with some sort of convertibility is a smart choice, and is highly recommended. When your baby is ready to move onto a bed, a toddler bed is a great option. That transition can be scary for toddlers, and if they can relate to the new bed because its familiar and feels like their own crib, but offers the independence of being able to get in and out on their own, the transition is much easier.

Planning a nursery should be fun. And, with a little forethought, you can take all the stress out of the process. Start with the baby crib, and then go on from there. Create the nursery of your dreams.