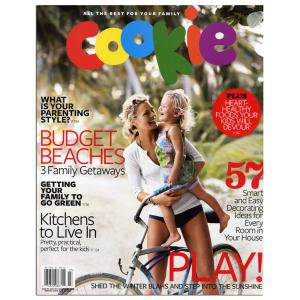 You don't have to be a child to appreciate the magical possibilities of a big, rambling mansion.

When house-hunting couple Chris DeWitt and Oscar Yague discovered Pont Reading, a huge old house in Ardmore, Pennsylvania, in 2003, they were intrigued by its pedigree the 1683 colonial-style building 10 miles west of Philadelphia is on the National Registry of Historic Places and enchanted by its character. With long hallways that run at not-quite-right angles, two staircases, and three stories that sit at different levels in different parts of the structure, the eight-bedroom house has a quirky storybook charm (and plenty of nooks and crannies for games of hide-and-seek). So DeWitt and Yague purchased Pont Reading and set about creating a home for their son, Lucas, who was born in June 2006 by surrogate. For the couple, the key was to make the place practical for a 21st-century family while layering in their own idiosyncratic blend of modern and old-world style in a way that enhanced, rather than overshadowed, the place's personality.

"Everyone who ever lived in Pont Reading has had respect for it," says DeWitt, 40, who until recently ran Free People, a division of Urban Outfitters. "We didn't want to be the people who came in and screwed it up." Today, if the original 17th-century resident were to walk through the halls, he would be proud of his former home: The couple have turned the property into a functional, decidedly unprecious home where babies, grandparents, and guests always feel comfortable, where dogs can (and do) lounge, and where Lucas will one day romp around with crayons in hand.

But making the house hospitable to the diaper-bottomed instead of the bustle-skirted was no effortless transformation. "It looked like a museum where you could imagine old ladies in costumes," says Yague, 36, a buyer for Anthropologie's home department. The house had a leaky old roof, antiquated bathrooms, and no central air, while its three acres of gardens required serious pruning and replanting. DeWitt and Yague set about modernizing in unobtrusive ways (when you're dealing with a house from the 1600s, the entire concept of modernizing is relative), keeping original doors and windows wherever possible, but avoiding traditional treatments like valances and velvet curtains. They have not done any major renovations to the pine-plank floors, nor have they knocked down many walls, and to maintain the spirit of the original structure, they embraced the charm of mismatched living levels. They inserted their unique multiera furnishings (a baroque daybed from Italy, an early-20th-century lion-skin rug from eBay) alongside the colonial architecture. On top of it all is a layer of Lucas's stuff predominantly circa 2006.

Some of the most endearingly personal updates can be seen in Pont Reading's four murals, created by artist Matthew Austin, who moved into the house for several weeks while doing the work. He painted lush landscapes filled with plants, vines, birds, and animals, but the true masterpiece is in Lucas's nursery, where he created a fantasy land with everything from robots to chimps and from birds to clouds--anything that might inspire stories or pay homage to existing ones. Special care was taken, too, to portray courageous kid moments, like a child in a boat surrounded by lightning ... who is smiling and covering his ears. The mural is done in the style of a child's drawing, which Austin found surprisingly difficult after years of mastering classical painting techniques: "It's hard to become innocent with your hand again artistically, you have to unlearn everything you've been taught." To get the truest kidlike results, Austin ended up drawing a lot of the animal figures with his left hand and his feet. "It was the most fun mural I've ever done," he says. "I was in such a different territory."

The kitchen served up another opportunity for mixing the olde with the new. This airy space was originally three cramped rooms with very little natural light, and an enclosed staircase that descended into it divided the space unnecessarily. Yague and DeWitt opened things up by exposing the staircase; now an integrated element, it connects the kitchen to the floor above more sensibly. They then removed most of the internal walls, creating one open area, and installed new mullion windows all around that offer a view of the garden. The Restoration Glass used in the windows make them seem as if they have always been there.

Now the generously sized kitchen blends original and new cabinetry, as well as a large custom-built island, all treated with a casein-paint finish, so everything looks of the same period. The room has the house's only television, as well as a sofa where you'll often find a grandparent, a guest, or one of the family's two vizslas. "I wanted us all to be together when we're cooking," says DeWitt, who often puts Lucas's seat on the marble countertops. "I didn't want someone to be alone in the kitchen and someone else to be watching TV in another part of the house." As is the case with many family rooms across the country, this space is wide, welcoming, and flooded with natural light. It is the heart of the house.

With the relentless demands of a growing baby as well as another infant due this summer (again by surrogate), the couple haven't had a lot of time to finesse every corner of the house. But that doesn't bother either of them. They want the rooms to feel like they have evolved over time, not like they've been thrown together all at once. "Pont Reading may be historic," observes DeWitt, "but it's also a place that has grown organically over all these years." Here's to aging gracefully.

Written by: Shax Riegler