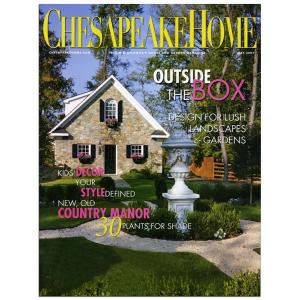 Long gone are the days when decorating baby's room meant simply lathering the walls with pink for girls, or blue for boys, and accenting the space with pastel clowns or Disney characters. Today, kid's rooms are afforded just as much thought as the living room or kitchen and parents are willing to pay the price. In fact, recent statistics from market research firm Packaged Facts suggest U.S. retail spending on infant, toddler, and preschooler home-furnishing products has risen 5.2 percent, from 2004 to 2005, to more than $8 billion.

Focusing on the design of children's rooms has definitely increased popularity in the last few years, says Sherry Blum, CID, owner of Westminister-based Jack and Jill Interiors, and interior design company devoted entirely to kids. I believe that we can attribute this trend to the numerous decorating shows on television, as well as the explosion of stores like Pottery Barn Kids.

When Mary Bauer, president of Bratt Decor in Baltimore's Belvedere Square, and husband, Stephen, were expecting their first child back in the mid 1990s, they did not like any of the furniture available to theem. We even went to New York to look for something that had nice quality with considerable design sensibility, she recalls. But when their excursion left them sans crib, Stephen, a commercial illustrator who had some formal training in furniture design, made one himself--and then started a company to fill the void they experienced as new parents. The couple's vision has since resonated with other parents. Bratt cribs, dressers, tables, and chairs are some of the hottest around, especially among the Hollywood elite. According to Bauer, Angelina Jolie, Courtney Cox-Arquette, and Denise Richards have all purchased pieces from Bratt Decor. But it's not just the rich and famous dropping the big bucks on their little tots.

Parents of generations past were beginning their families earlier in life and often did not have the level of disposable income we have today, says Blum. Now, who have established themselves in their careers are having children later, and can afford to go a little over-the-top with decorating their babies room.

LOTS TO PLAY WITH

Pattie and Paul Tetro, of Glenwood, happily took advantage of the abundance of options available for their 11-month-old son. When we had our girls ten years ago, we painted the rooms pink, just like everybody else did back then, recalls Patti. But when they decided to adopt their third child, the couple knew they wanted something special so they contacted Blum, who created a nautical-themed nursery that's now one of the family's favorite spaces in their entire home. From the ship's wheel light fixture on the ceiling to the personalized, wall-hung mural created by Blum, the custom design of the room is not only baby-friendly, it's also one that can grow with him.

Perhaps that's the key in justifying such an expense. Definitely begin by purchasing well-made, versatile furniture, says Blum. Avoid the problems of parents past who purchased the typical crib and changing table and two or three years later found themselves selling it at a yard sale. [Many of] today's cribs are convertible and can later be used as a full-sized bed, saving you money in the long run.

When shopping fro a changing table, look for one that safely attaches to a dresser, so when diapers are a thing of the past, just remove it and you've got a functional piece that will last for years. You can also use an armoire for a changing station, adds Blum. A contoured changing pad can be placed inside the doors, and the drawers below can hold wipes and diapers. When it's no longer necessary, the pad can be removed and the armoire can hold a television, computer, or hanging clothes.

Modular furniture is also popular. Although Ethan Allen has always offered children's furniture, the company realized a market for an entirely new brand--Ethan Allen Kids, a line consistent with their traditional style. People who have nice homes with beautiful furniture want to continue that look into their kid's rooms, says Gary Levine, owner and vice president of Ethan Allen stores in Towson, Catonsville, and Annapolis. He adds that he's witnessed great success with the kid's line, especially with customers who want that--Ethan Allen look for their children. These people find it really easy to work with our design team, he says. Plus, pieces in the collection can grow with kid's into their teen years, and when they go off to college, they can either take the pieces with them, or you can move the furniture into a guest room.

For a bolder, more modern approach to modular furniture, consider the merchandiser FLEXA. With primary colors serving as their principle color palette, this Denmark-based company has created a line on day-and-bunk beds. Ideally suited for pre-school aged children, beds become much more than just a place to sleep. Conveniently, a basic bunk bed or day bed may be temporarily transformed into slides, prince and princess castles, play stores, and hide-and seek tunnels.

WHAT'S HOT FOR TOTS

If time and money are of no object, parents may indulge their wildest dreams. Andrea Edmunds, president of Poshtots, is all about being over the top and loving every minute of it. Sure, functionality is fine but often what parent's (and children) want is pure fantasy. Poshtots offers extravagant, whimsical beds and exquisitely detailed accessories that nurture every nook and cranny of a child's imagination. Shunning minimal, transitional, and sleek, her customers seek out a custom-made, hand-painted look. Her giant birchwood-Coach, recently purchased by Jason Kidd of the New Jersey Nets is designed by an artisan in London, and retails for $47,000. Harking back to Cinderella's pumpkin, all it needs are six white horses to pull it. Another big seller says Edmunds, is their intricately rendered, life-size Storybook Cottage, recently chosen by Heidi Klum for her daughter Leni. Her son Henri will soon have a pirate room, with a two-story ship and loads of netting, useful for storing toys. There's much more to chose from. Poshtots offers a race car bed, which comes with its own NASCAR-like number. A rabbit-theme room is adorned with a plush canopy twin bed, matching armoire, and carrot garland ready for Peter Rabbit and Flopsy Mopsy to nibble upon.

Here in the Mid-Atlantic region, though, conservative opulence is the more conventional approach, says Bauer. Bratt Decor's most popular cribs in this area are the Chelsea sleigh bed, a luxurious piece with a deep brown espresso finish, inlaid carvings, and silver-leaf accents, and the four-poster iron crib, which Bauer describes as decadent.

Ironically, another trend gaining momentum is, according to Bauer, minimalist modernism. Bauer says they will debut a Modern Collection. It will have very simple, clean lines; lack ornamentation; yet be fresh and quiet, she says.

Parents want a soft and serine environment for their baby, says Blum. The most popular colors through the years are, of course, baby blue, pink, pale green, and soft yellow. Today, however, parents are opting for unique color combinations and variations of these standard baby colors. Rather than baby blue or pale pink, many are choosing a soft aqua blue or salmon pink or soft orange, and then pairing them with unexpected secondary colors such as chocolate brown or black.

Also, moms and dads are often choosing to decorate baby's room in the same design scheme say, French country, Victorian, Italian, Asian, or retro-utilized throughout the rest of the home, even if it is more sophisticated than expected for little one. Anything goes these days! says Blum.

A IS FOR ACCESSORIES

Although furniture is the starting point for any room, it's the accessories that make it special. Accessories make or break a design, says Blum. Plan the room with furniture and structural elements that can easily grow up with your child, but be willing to change the theme of the room with inexpensive accessories over the years. This will allow you to redecorate without having to make expensive purchases. Light fixtures, area rugs, and wall art can easily be changed to reflect your child's changing interests.

And for those who are on a budget, it is nice to know accessories don't have to cost a fortune. Bauer suggests spending your money on quality furniture and then getting creative with the accent pieces. Have an older sibling paint a picture for the new baby and then frame it, she suggests. Or dig out your old baby pictures and frame those. It adds a lot of depth without costing a lot of money.

Personalized pieces are fun to include, too, because kids of all ages love to see their name on things. This is why I have created my line of personalized wall art, says Blum. The great thing about these large scale, portable murals is that they can be completely customized and personalized, adding a unique, one of a kind look to any child's room. They can also be easily moved to a new room or new home for families who relocate.

As for the Tetros, they couldn't be more pleased with their investment. When our son comes into his room, he always points to the light, says Patti. This is more than just a place to sleep for him, it is stimulating, warm, cozy, and friendly. He just loves it.

Written by: Kelli Rosen