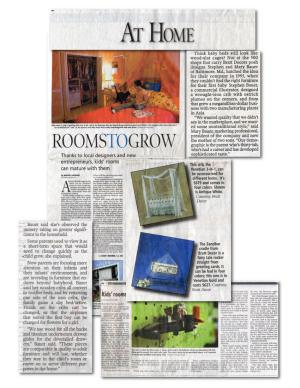 A man's home might be his castle, but his children's rooms are their kingdoms, lavished nowadays with kiddie-customized accouterments from crib to computer station.

If a boy wants to sleep in a custom-built space ship, with fiber optic lighting and engine roar sound effects, he can. If a girl wants her bed in a super-sized doll house, she can have it, according to Diane DeWald, owner of Mega Kids Inc. in Park Shore Plaza. De Wald has been concocting the fantasy beds her clients request for the past 12 years, as well as providing more typical juvenile furniture in her 12,000 square-foot showroom. It depends upon the age, she explained. Infants don't say much about their room design, she quipped, so the mothers make the nursery decisions. Right now, many are influenced by celebrity moms. They see what the stars have for their babies and they want the same for their own.

DeWald said that as the young child develops certain preferences, room design reflects that, with ballet and princess motifs popular with girls and train or sports themes favored by boys.

With age comes space considerations, she continued. Where will the teenager entertain friends? Where will the entertainment center or computer station be?

Some youth-oriented furniture is designed for space-saving, such as the classic trundle bed. New products, such as conversion beds, morph from crib to toddler bed to headboard and footboard for a full-size bed. Loft beds put a twin bed and ladder over a space that can be filled by desk, dressers or whatever suits the child best.

Think baby beds still look like wood-slat cages? Not at the 500 shops that carry Bratt Decors posh designs. Stephen and Mary Bauer of Baltimore, Md., hatched the idea for their company in 1995, when they couldn't find the right furniture for their first baby. Stephen Bauer, a commercial illustrator, designed a wrought-iron crib with ostrich plumes on the corners, and from that grew a megamillion-dollar business with two manufacturing plants in Asia.

We wanted quality that we didn't see in the marketplace, and we wanted some nontraditional style, said Mary Bauer, marketing professional, president of the company and now the mother of two sons. Our demographic is the parent who's thirty-ish, who's had a career and has developed sophisticated taste.

If that taste runs to Old-World iron cribs with canvas canopies, curving cribs painted silver or red wood beds with airplanes on the posts, then Bratt Decor has the product. Bauer said she's observed the nursery taking on greater significance in the household. Some parents used to view it as a short-term space that would need to change quickly as the child grew, she explained. Now parents are focusing more attention on their infants and their infant's environment, and are investing in furniture that endures beyond babyhood. Bauer said her wooden cribs all convert to toddler beds, and by removing one side of the iron cribs, the family gains a day bed/settee. Finials on the cribs can be changed, so that the airplanes that suited the first boy can be changed for flowers for a girl. We use wood for all the backs and titanium undermount drawer glides for the dovetailed drawers, Bauer said. These pieces are comparable in quality to adult furniture and will last, whether they stay in the child's room or move on to serve different purposes in the home. While the Bauer's first son was the catalyst for their business in Maryland, Lisa Yaker's twins were the spur to hers in Bonita Springs. When you have twins, you usually join a club for parents of twins, she said. What I learned there is that everybody wants the nicest room they can have for their children with the most storage and play space. Yaker, a professional designer who had worked all types of assignments locally, started designing childrem's rooms at home and opened DE Kids, In Bay Crossings in December. We find one of the best ways to give a room personality is with a mural, she observed. Some people have four walls and the ceiling done, and others do a one-wall treatment. It's an opportunity to personalize the space sometimes the family pet, the child's name or a license plate is painted in, and we like to include a growth chart. Yaker, who does in-home consultations, recalled that one couple wanted a mural that was artful and educational. The baby was painted on a magic carpet, and the room had an around-the-world theme, showing local landmarks and global ones. Theme furniture can complement wall art, she noted. Headboards and chairs shaped like baseball mitts or soccer balls score with moms, dads and their offspring.

While custom murals, starting at about $500 at DE Kids, and Bratt Decor cribs, starting at $627, are not for tight budgets, small miracles can happen with new bedding and room accents. Pier 1 Kids in the Granada Shops shopping center has lots of comforter designs starting at $100, including equal-opportunity camouflage--olive drab for boys and pink for girls-and brand-new surfer and space galaxy designs for boys and Moroccan nights and gypsy girl patterns for girls.

Pier 1 Kids Manager Jessica Cedeno said that reasonably priced wall art and accessories ($10 to $30) can go a long way to transforming the atmosphere, without the expense of new furniture. The company's Web site shows $3 drawer pulls shaped like trucks and flowers that, with a coat of paint, could do wonders for an older piece of furniture.

Small fry stuff is big business now. According to the Juvenile Products Manufacturers Association, $253,318,000 was spent in 2005 on children's furniture and case goods, and $247 million was spent in 2004. Pottery Barn, Target, Ikea and Ethan Allen are just a few of the mass retailers who have children's furniture and accessories collections.

Safety is a key issue with shoppers, DeWald noted. Bauer said her furniture meets or exceeds guidelines set by the U.S. Consumer Safety Commission. The little ones may not have the power of the purse when there's a difference of opinion on furniture choices, but retailers say their voices rule.

The kids know what they want, said Cedeno, and they stick to their guns until the parents give in.

Written by: Maxine Ginsberg