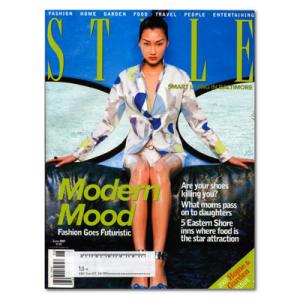 A Baltimore-based children's furniture company with international flair has a Hollywood following.

When Mary Bauer was expecting her first child 12 years ago, she searched for a crib in stores around Baltimore and found herself unimpressed. Even a trip to New York City with her husband, Stephen, failed to yield a crib that fit the couple's eclectic, elegant style. What was out there in the real of baby design was limited, she recalls. There were a few incredibly ornate European cribs retailing for thousands of dollars, a bunch of boring, inspired designs in cherry and maple finishes, or, worse still, themed cribs of characters like Raggedy Ann and Andy, she says.

It was nothing I could deal with in my house, says Mary. There were no real artists designing furniture for children. So she and Stephen, who had moved to Baltimore from South Africa in 1992 and owned a commercial illustrating company, designed their own crib, and soon after, opened Bratt Decor, a children's furnishings design company.

Initially the Bauers worked out of a small warehouse, selling cribs to specialty baby boutiques up and down the East Coast. Now the company has seven lines from the simple Sweet Pea to the high-style Venetian featuring cradles, armoires and changing tables, in addition to pieces for older children, like daybeds, bookcases and desks. And their furniture can be found in more than 500 specialty boutiques across the country.

What distinguishes Bratt Decor from other children's furniture companies is its emphasis on elegant design but as the name implies, Bratt Decor doesn't take itself to seriously. When Stephen came to the United States, he loved the cheeckiness of American words, so when Mary suggested pairing the hip bratt with the sophisticated decor, Stephen was sold.

Bratt Decor's flagship crib, the Casablanca Plume pays homage to the black wrought-iron furniture that Mary developed a passion for while living in Paris. Stephen designed a simple columned crib with an antique French feel and imported huge white ostrich feathers from his native South Africa, which he added to the tops of the crib's four soaring posts. It was unexpected, recalls Mary, elegant, but still playful. Their newest piece, the Chelsea sleigh crib, is accented with relief carvings and a rich ochre inlay inspired by the couple's recent trip to Italy.

In the fall of 2003, the couple opened the first store dedicated entirely to Bratt designs in Belvedere Square. Tysons Corner got its own Bratt Decor this May, and during the next five years the couple plan to open stores in Los Angeles, Chicago, Dallas and London.

As the company expands, the couple find themselves talking on a growing number of roles within the company. We basically both have about eight jobs, says Mary. Stephen still designs every piece of furniture as well as instruction manuals that come with the furniture and the very boxes the furniture is shipped in. He also makes frequent trips to Asia, managing the company's offices in Vietnam and China, where the furniture is manufactured. Mary runs the business end of the company, including accounting, marketing, and publicity and she sees to it that Bratt Decor catalogs find their was to celebrity moms (and dads) to be.

Diane Farr, star of CBS hit Numb3rs, purchased the Venetian crib in an antique gold finish. Life & Style magazine featured the star's nursery in a recent issue and quoted Farr calling her purchase the most beautiful crib I've ever seen. In January, Bauer met with Desperate Housewives star Marcia Cross, and helped her decide on several pieces from Bratt's Dick and Jane line. Entertainment mogul Sean Diddy Combs twin daughters also will sleep in a Stephen Bauer original, a set of wrought-iron rocking cradles from the opulent Zanzibar line.

The couple's son Sebastian, now 11, has long outgrown the crib that inspired his parent's company, but he, and little brother Raiff, 9, continue to play an important role in the family business. They are our product testers, says Mary. The boys, who make the occasional appearance in the company's catalogs, have had the same furniture for seven years, says Mary. So you know our products are as durable as can be.



Written by: Lia Gormsen