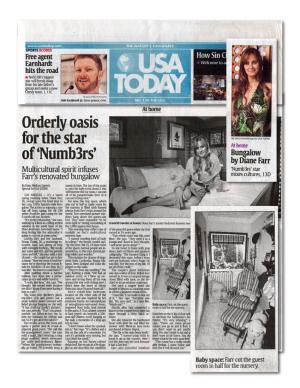 Take a peek inside "Numb3rs" star, Diane Farr's eclectic home. Great photo of the nursery.

LOS ANGELES--It's a warm spring morning when Diane Farr, 36, swings open the front door to her cozy 1920s Spanish-style bungalow. The actress is enjoying a rare day off from taping the hit CBS series Numb3rs and caring for her 5-week-old son, Beckett.

"It's pretty exhausting," she says, walking by a floor-to-ceiling arched window in the sunlit foyer of the three-bedroom, two-bath home. "I keep feeling like the adrenaline is going to run out at some point."

Luckily, Farr and her husband, Seung Chung, 36, a marketing executive, have had plenty of help with midnight feedings. "My family just came and left, and his parents came and left," she says with a hint of panic--the couple has yet to hire a nanny. "Now my mom is back because we're shooting the season finale for Numb3rs. (It airs May 18.) I was like, 'You have to come back!'"

After padding down a narrow hallway, Farr steps into a picturesque green-and-white nursery.

"I really like lime," she says. "We thought this would work because we didn't know if we were having a boy or a girl." She leans over Beckett's plush, toy-filled crib and points out a small bulletin board covered with faded photos hanging on the wall. "It has all of my family's pictures," she says proudly. "That's my grandmother, my father-in-law, my father, my husband, his siblings and me. So it's got all of the babies!"

Farr strides across the room and opens a pocket door to reveal an adjacent guest room. "We call this the grandparents' room," she says with a laugh. She's wearing a snug khaki sundress, which showcases her svelte post-pregnancy figure. "When the grandparents eventually go home, I'll probably keep a nanny in here. The joy of the room is, once the baby turns about 2, this will become the toy room. I can put all of his paraphernalia here so it can sort of stay neat."

For now, this tiny space, which was cut in half to make room for the nursery, is filled with framed photos from Farr's trips around the world. Two oversized picture windows hang above the queen-size bed. They were expanded "to let more light in" during remodeling of the 2,000-square-foot house.

This morning they reflect rays of sunlight on Farr's multicultural memory lane.

"I started traveling kind of early in college," the former model says. "By the time I hit 25, I'd done most of the places normal people are interested in, so the trips started getting wilder and weirder."

This explains the dozens of snapshots from Cambodia, Kenya, Malaysia, New Zealand and Cuba displayed on the walls.

"They're from my wedding," she says, flashing a smile. "We had an outdoor event, so I blew up pictures and strung them all the way around the tent with fishing wire. I didn't have the heart to throw them out since I framed them all."

Farr's cobalt-blue bedroom, located on the other side of the nursery, was also inspired by her extensive travels. An oversized pair of wrought-iron-and-wood doors, imported from India, lead outside to the patio. A Thai cabinet covered in faux jewels sits beneath a 200-year-old Chinese scroll hanging on the wall, a memento of a long-ago trip to Laos.

"I don't know what the symbolism is," Farr says. "It's a father and a boy on the side of a mountain. I'm sure it's probably very moving, but I just liked the scroll."

Relaxing on her honey-colored sleigh bed, Farr erupts in a fit of giggles as she describes the condition of the peaceful space when she first moved in 3 1/2-years-ago.

"This whole room was this color blue," she says. "They used it as a lounge and I loved it, but I thought, 'I will never get to sleep!' "

So she toned it down with gray doors, dark red blinds and Japanese calligraphy. "The funniest thing is I decorated this room before I even met my husband, who's Asian. He was like, 'For the rest of my life, I'll get all of the credit.' "

The couple's guest bathroom was also a labor of love. Before Farr moved in, it was a cramped storage closet filled with junk, so she decided to do an extreme makeover.

She used a copper bowl she bought in Mexico as a starting point to create a Japanese steam room.

"I was like, 'I can make a sink out of it,' " Farr says. "Everyone was like, 'No, you can't.' So I was like, 'Watch me!' "

Shortly after, Farr connected a faucet to the copper bowl, then ran pipes through a shiny black armoire.

She also replaced the hardwood floors with slate tile and filled the shower with Mexican lava rocks purchased at Home Depot. "The tile is the only fancy work," she says. "I started using rocks to break it up in the corners, then I tied the slate into the rock because it had a Zen feel."

Farr also installed bamboo branches on the 9-by-4-foot ceiling to continue the bathroom's Asian theme. "It's very relaxing," she says. "There are some people's houses you go in and it feels like you don't want to get anything dirty. You don't want to eat and you don't want to sit down. You don't know what to do with your feet!

"This house has a really comfortable feeling. I come home and it feels like it will all work out."

Written by: Dana Meltzer Zepeda