DESIGNING YOUR DREAM NURSERY
where wishes come true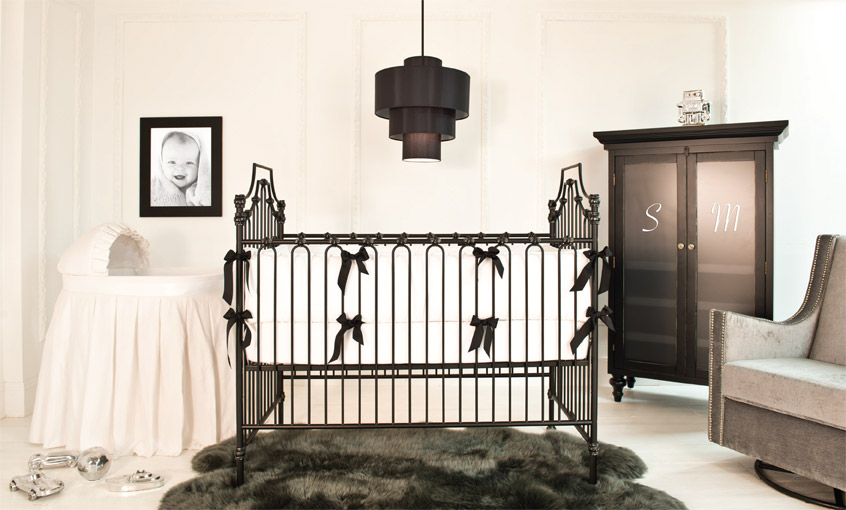 Bratt Decor's design board app allows you to create room after room without spending a penny or getting out of your chair. Change paint color and crib options with the press of a button. Work with one of our expert designers to get another perspective or help designing your own custom bedding set. We recommend designing your nursery as early as possible, so there's no stress and the project can be enjoyable and have time to evolve. Also, some items, especially custom items, can take months to create so starting early is essential to ensure you get everything you want, exactly as you want it. Once you have a clear vision and plan, decisions become much easier.
CRIB, INCLUDE MATTRESS & DAYBED


The crib is the centerpiece of your nursery and seriously defines the space. Bratt Decor offers a beautiful collection of the finest cribs, so take your time and decide which one is right for you and don't forget the mattress. All Bratt Decor mattresses are designed to fit our cribs perfectly. Consider the size of your space and the growing needs of your baby when making your choice. We always advise ordering the toddler/ daybed option at the time of crib purchase, because styles and finishes change and may not be available in the future.


BEDDING


We have an exquisite collection of baby bedding for you to consider. We offer the most luxurious and varied range of fabrics. These fabulous designs and styles look amazing with our beautiful cribs and truly speak to the sophisticated pallet. You can buy bedding a la carte or in complete sets. Custom designs are also available.


DRESSER/CHANGER


This is a must have piece for every nursery but you won't be changing diapers forever, so think about your needs as your child grows. You want to find something that allows you to maximize usage and looks stylish in the process. All of our dressers double as a changing table simply by adding the very affordable change tray. Each case good comes complete with anti-tip hardware, a water-resistant changing pad and a beautiful terry cloth cover.


RUGS, WINDOWS, WALLS


The textures and colors of your room add so much designer savvy to a space. Once your nursery vision is clear in your mind, make choices throughout that speak to that vision. Window coverings not only block light, but add color, texture and softness. Rugs help minimize noise and create a cushion of comfort for crawling babies. Walls make a huge visual impact, so choose paint, paper or murals carefully.


SEATING


Nights are long with a newborn, so ensure your comfort with an ultra comfortable rocker/glider and ottoman. Our designs are beautifully built and offer a range of styles and fabrics to choose from. Our chairs are gorgeous and will look beautiful beyond the nursery. We also offer a variety of custom fabrics.


ARMOIRE/OTHER STORAGE


It's amazing how the littlest among us have the most stuff. Additional storage is a must for keeping your nursery organized and beautiful. Bratt Decor has a considered selection of armoires, bookcases and night stands to meet your needs. We include tip-resistant kits with all of our tall furniture for added stability and safety.


GIFTS AND DECOR


This category is just for fun! Maybe you don't need a 3 foot tall giraffe, but it is just SO cute and this is your dream nursery after all, so there are no limits. Love the bling knobs for your Chelsea Dresser (yes, they are AMAZING), go ahead and add them to your registry. Crystal chandeliers, sheepskin rugs, and gilded mirrors, oh my!

<< previous
next >>